Adobe After Effects is a innovative compositing and animation program mainly focus for designers, animators, and compositors. Its also relied on to make visual effects and motion graphics for web, video, TV, and film. This program, which is one of the Adobe Creative Cloud suite's tools, is regarded as the video industry standard for visual effects and motion graphics.
From Adobe After Effects, users can add animation to texts like spinning words, twirling titles, and rolling credits. The tool also provides many ways to make visual effects. Users are enabled to create awesome effects through merging videos and images. With After Effect key frames, motion can be added to objects such as shapes, logos, and cartoons. Lastly, After Effects allows motion graphics, artists and editors, to collaborate on their work smoothly.
Adobe's first new release of After Effects was (version 3.0) on Classic Mac OS platform in October 1995. The Latest version is 2019 (17.0) released with OS X El Capitan/Windows platform.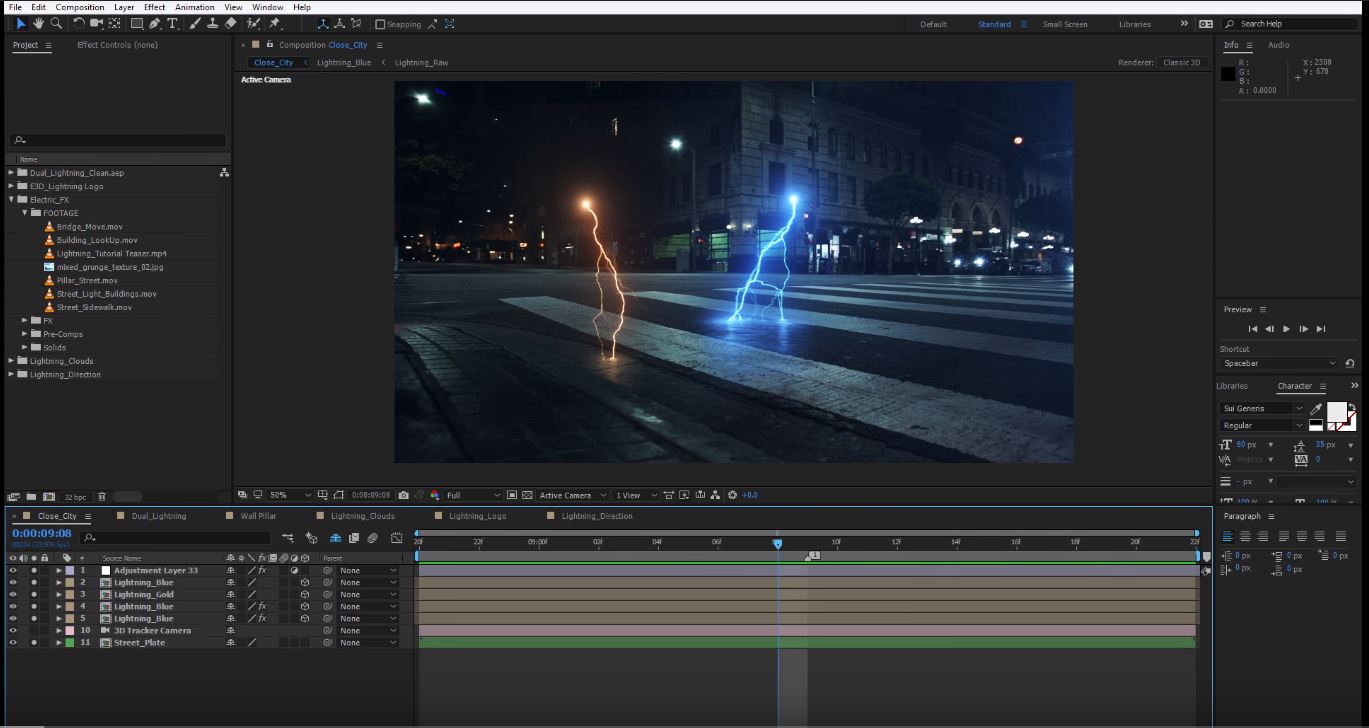 Feature Overview
Adobe After Effects is a digital visual effects, motion graphics, and compositing application and used in the post-production process of film making, video games and television production. Among other things, After Effects can be used for keying, tracking, compositing, and animation. It also functions as a non-linear editor, audio editor, and media transcoder.
Extensive Plug-ins support
After Effects has extensive plug-in support; a broad range of third-party plug-ins are available. A variety of plug-in styles exist, such as particle systems for realistic effects for rain, snow, fire, etc.
With or without third-party plug-ins, After Effects can render 3D effects. Some of these 3D plug-ins use basic 2D layers from After Effects.
In addition to 3D effects, there are plug-ins for making video look like film or cartoons; simulating fire, smoke, or water; particle systems; slow motion; creating animated charts, graphs, and other data visualization; calculating the 3D movement of a camera in a 2D video shot; eliminating flicker, noise, or rigging lines; translating timelines from FCP or Avid; adding high-end color correction; and other workflow improvements and visual effects.
Feature summary | After Effects (November 2019 release)
New features and enhancements in the November 2019 release of After Effects (version 17.0).
Best practices for updating
Adobe recommends backing up all of your projects and media before updating the app. To avoid compatibility issues, install the new version alongside your existing After Effects installations. This allows you to migrate projects to version 17.0 at your own pace. Creative Cloud allows for auto-updates of the Adobe apps, but this feature is not recommended for video users.
Preview and playback performance improvements
This release of After Effects offers threading improvements which give a sharper and quicker preview playback. You can also leverage the new GPU-accelerated display system core to achieve accurate view of your designs without breaking your creative flow. GPU rendering enhances the preview playback performance, and gives you clear, and more detailed real-time preview of your project.
Enhanced EXR Workflows
You can now import layered EXR (OpenEXR Bitmap) files as compositions into After Effects to make the compositing process faster. Importing EXR files allows you to apply multiple effects to composition layers without going through a complex setup process first. You can work with each layer individually and apply effects to make your renders look more natural in their environment. Improved performance makes working with large files more responsive.
This release of After Effects offers improved responsiveness when working with shapes to speed up creative iteration. With improved access to grouping controls, it is easier to navigate and manage large numbers of shapes.
There is an overall performance improvements with projects containing shape layers.
You can now right-click to group or ungroup shape layers. Select multiple shapes in the 

Timeline

 panel, right-click and select group/ungroup shapes. Another option is to select multiple shapes in the preview window, right-click and from the 

Mask and Shape

 path, use group/ungroup.
Graphics and text enhancements
This release of After Effects has multiple graphics and text enhancements.
Dropdown Menu Control effect
When creating Motion Graphics templates, you can now use the Dropdown Menu Control effect to hook up properties of layers in your project to a drop-down list. In the earlier versions, you hooked up properties of a layer to sliders and checkboxes to drive animations within your project. But now you can share sliders and checkboxes as editable controls that allows other editors to change their properties in Premiere Pro.
However, for more complex and lengthy animations, sliders and check boxes might not always be intuitive. This menu makes it easy to adjusts multiple settings at once and design templates that are easier for editors in Premiere Pro.
Edit text properties with expressions
You can now use expressions to make global changes to text properties in your project. When you work with any text expressions and mogrts, the new expressions can control the text styling and the text itself. For example, your project has main and end titles, and you want a uniform text styling throughout. For this, use expressions to link the titles together, and update their styling at once. Reference properties of a single text layer to easily apply changes throughout the composition. This enables you to keep the font, size, and styling in sync across multiple text layers in After Effects and mogrts.
If an After Effects mogrt is created with

Alternate Text Boxes

 enabled for a text control in the text 

Edit Properties

 dialog, use the specified alternate layer to determine the text rect for that text layer.
In Premiere Pro, use this alternate text rect for that text layer, the red hover rectangle is the alternate text size or location. Click within the red hover rectangle shtould activate text edit on that aeText.
The fallback text box information is stored in the After Effects mogrt and serialized to the After Effects project.
When After Effects calculates the text rects for editing in Premiere Pro program monitor, it uses the alternate layer if it is set up.
This release of After Effects offers the following expression improvements:
Expression Editor improvements
You can now use the new scrolling functionality to prevent the scroll from adjusting incorrectly when the box is resized by typing the return character.
Prevent numbers from matching in an autocomplete list if the variable begins with a number. Smarter autocomplete prevents from overriding closing brackets and quotes.
You can now scale font size for Hi-DPI displays.
Graph editor now commits changes in preferences for all the open graph editors.
If you enable syntax highlight, the folding icon buttons in the UI now respect the default and background color, or the line numbers color and background color.
Expression performance improvements
After Effects now attempts to detect an expression that does not change throughout a comp and calculates the expression only once. Load your favorite expression-filled comp and experience the improved performance.
Any expression using 

posterize Time(0)

now calculates only once for the entire comp, not on every frame.
Expanded format and better playback support
New format support includes Canon XF-HEVC.  Experience better playback when working with 10-bit H.265 HD/UHD and HEVC HD/UHD files. Improved ProRes decoding performance is also available. Plus, access legacy QuickTime files with new native support for MJPEG and Animation codec files with delta frames.
New Cineware renderer and Cinema 4D Lite R21
This release of After Effects introduces the new Cinema 4D Lite R21. Here are the details:
When you install After Effects, the After Effects installer installs a Maxon Cinema 4D R21 folder on disk in your common applications location.
This folder includes Cinema 4D Lite R21. On first launch, you need to create a Maxon user account by following the onscreen directions. When you launch through Cineware, you may also be offered to start the full version of Cinema 4D in trial mode.
An account is needed to launch Cinema 4D, but not for rendering in After Effects with Cineware or the Cinema 4D 3D renderer.
Content-Aware Fill for video improvements
Remove unwanted objects from your video faster and more efficiently with the new performance improvements, and reduced memory usage.
Benefits
1.Data-Based Animation
After Effects is latest version showcases a new tool that enables users to make interactive motion graphics and animations with data files. With this feature, users can import data files to the app to add animations to the composition.
2.Life like Virtual Reality Videos
After Effects provides many tools and features that assist users in making engaging videos to players and audiences. With these compositions, the audience can feel involved and immersed in what they're playing or watching.
3.Virtual Reality Video Composition Editor
With the app, users can edit virtual reality or 360 videos using the VR Comp Editor that has many compositing tools. As users build the VR/360 videos with the tools, they'll be able to see their videos as it'll reflect in a VR headset.
4.Create Virtual Reality Environments
Additionally, users can create virtual reality environments using the app's tool aptly named "Create VR Environment." Through this feature, users can immediately set up the composition, cinematography and other important aspects for making a great 360/VR video.
5.Apply Virtual Reality Effects
After Effects also provides a myriad of functions and tools that allow users to add VR effects to their 360/VR videos. Through this tool, video enhancement can be done while removing video distortions. The tools also allow the addition of other effects, dynamic transitions, and title drops to 360/VR videos.
6.Speed Up Animation Process Using Expressions
After Effects also has a solid tool that makes the animation of video objects and scenes simpler and quicker to do. The apps can also use "expressions" that are actually codes and lines that control animations in a shorter time.
7.Expressions To Manage Mask And Shape Points
With this app, users can also animate specific objects like masks and shapes through expressions for their path points. Through the expressions, the app is automated to map out the x and y coordinates of the path points of these objects.  The end product is the object animation is simplified as users won't have to go frame-by-frame in working on it.
8.Visual Keyboard Shortcut Editor
After Effects is tools also include a visual keyboard shortcut editor that allows users to register their own keyboard shortcuts. The shortcuts can be edited and viewed through the app's keyboard user interface. With the shortcuts customized, users can be comfortable in editing and animating their videos as they can bring out tools and features faster through simple key presses.
9.Team Projects and Auto-Save Functionality
After Effects also has an auto-save feature, which is new for After Effects and is accessible in Team Projects. Team Projects is a feature that enables video editing teams to share different versions of the compositions with each other. With the auto-save feature, users can simply take the previously saved versions of their works, update them to the latest ones, and even start new projects from the auto-saved versions.
Licensing
It is available for either as a single app license subscription or as part of Creative Cloud All Apps After Effects + all Adobe creative apps license subscription basis. For your licensing requirement, feel free to contact E-SPIN, we can supply in hassle free all-in-one solution, include hardware (desktop, laptop, workstation with operating system), Graphics tablet (digitiser, drawing tablet, drawing pad, digital drawing tablet, pen tablet, or digital art board) and third-party software application you may needed in one package solution.
System requirements
Minimum system requirements for After Effects
Minimum specifications
Processor
Multicore Intel processor with 64-bit support
Operating system
Microsoft Windows 10 (64 bit) versions 1803 and later
RAM
16 GB minimum (32 GB recommended)
GPU
2GB of GPU VRAM.

Adobe strongly recommends updating to NVIDIA driver 430.86 or later when using After Effects. Drivers prior to this have a known issue which can lead to a crash.

Hard disk space
5GB of available hard-disk space; additional free space required during installation (cannot install on removable flash storage devices)

Additional disk space for disk cache (10GB recommended)

Monitor resolution
1280×1080 or greater display resolution
Internet
Internet connection and registration are necessary for required software activation, validation of subscriptions, and access to online services.*
Minimum specifications
Processor
Multicore Intel processor with 64-bit support
Operating system
macOS versions 10.13 and later. Note: macOS version 10.12 is not supported
RAM
16 GB minimum (32 GB recommended)
GPU
2GB of GPU VRAM.

Adobe strongly recommends updating to NVIDIA driver 430.86 or later when using After Effects. Drivers prior to this have a known issue which can lead to a crash.

Hard disk space
6GB of available hard-disk space for installation; additional free space required during installation (cannot install on a volume that uses a case-sensitive file system or on removable flash storage devices)

Additional disk space for disk cache (10GB recommended)

Monitor resolution
1440×900 or greater display resolution
Internet
Internet connection and registration are necessary for required software activation, validation of subscriptions, and access to online services.*
Head Mounted Display (HMD)
Operating system
Oculus Rift
Windows 10
Windows Mixed Reality
Windows 10
HTC Vive

Windows 10
27" iMac with Radeon Pro graphics
iMac Pro with Radeon Vega graphics
Mac OS 10.13.3 or later
NOTICE TO USERS:
After Effects supports text composition in Middle Eastern as well as Indic scripts using the "South Asian and Middle Eastern" text engine.
Internet connection, Adobe ID, and acceptance of license agreement required to activate and use this product. This product may integrate with or allow access to certain Adobe or third-party hosted online services. Adobe services are available only to users 13 and older and require agreement to additional terms of use and the Adobe Privacy Policy.  Applications and services may not be available in all countries or languages and may be subject to change or discontinuation without notice. Additional fees or membership charges may apply.