Problem:How do I use the activation codes that are provided to me through the Tenable Support Portal?

Solution:

Please view the Nessus Activation Code Installation document for instructions on installing the Activation Code you have received after registering for Nessus Home, Nessus Professional, or Nessus Manager product.

Nessus Activation Code Installation

After you have registered a Nessus Home, Nessus Professional, or Nessus Manager product, you will receive an Activation Code. Nessus Activation Codes are used for new installations of Nessus products and for updating an existing installation of Nessus products.

Obtain an Activation Code for Nessus 

To obtain the Activation Code for the Nessus Subscription, please log in to your Tenable Support Portal, and then click the Activation Code link from the left navigation menu.

Activating New Installations

During new installations of Nessus, you will be asked to provide your Nessus Activation Code.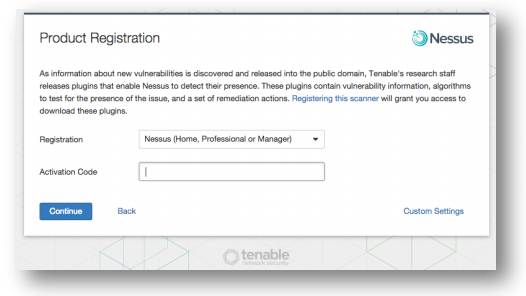 Update an Existing Activation
The Nessus product Activation Code is displayed and managed from the General Settings of the Nessus UI. Click on the Gear icon from the Nessus top navigation menu to be directed to the Overview page.
From the Overview page, next to the displayed Activation Code, click on the pencil icon , enter your new Activation Code, and then click the Save button.
Once your Activation Code is validated, Nessus will download updated files. Once this is complete, you will be prompted to login to Nessus.
Registering Nessus without Internet Access
If your Nessus installation is unable to connect to the Internet, use the following procedure to register and update plugins. On the system running Nessus, type the following command:
This will produce a string called "challenge" that looks similar to following: 569ccd9ac72ab3a62a3115a945ef8e710c0d73b8 Next, go to http://plugins.nessus.org/v2/offline.php and paste the "challenge" string as well as the Activation Code that you received previously into the appropriate text boxes. This will produce a URL that will give you direct access to the Nessus plugins. Save this URL because you will use it every time you update your plugins. In addition, it will produce a file called nessus.license. Copy this file to the host running Nessus in the appropriate directory:
Once the nessus.license file has been copied, run the nessuscli fetch command to install the file:
You can obtain the newest plugins by going to the URL that was provided in the previous step. Here, you will receive a TAR file (e.g., all-2.0.tar.gz). Copy the file to the Nessus scanner system and then type the appropriate command for your platform:
If you have any questions, feel free to request help using email support from the Tenable Support Portal, post a question to the Nessus Discussion Forums, or review the Nessus documentation.