What is Tenable One?
Ransomware are expanding at exponential rate. Multiple platforms had been introduced as solutions. Subsequently, numerous platforms come with different metrics, reporting, and training requirements which made it difficult for organisations to communicate their cyber risks – Hence, Tenable introduces the release of Tenable One as an ultimate solution. What is Tenable One?
Tenable One is an Exposure Management Platform that unifies risk-based vulnerability management, web application security, cloud security, identity security and attack surface management to empower organizations with visibility across the modern attack surface.
What are delivered by Tenable One? 
Tenable One is a cloud-based platform that integrates exposure coverage spanning IT assets, cloud resources, containers, web apps and identity platforms of exposure view as well as threat intelligence and data science from Tenable Research to gain unified visibility on your cyber risk.
Key Benefits:
1. Comprehensive Visibility
Tenable One offers a unified view of every asset and associated software vulnerabilities, configuration vulnerabilities and entitlement vulnerabilities, for both on-premise and in the cloud.
It performs continuous monitoring to the Internet that helps organisation to quickly discover and detect
all external facing assets to remove areas of known and unknown security risk.
It decreases time and effort needed to understand complete attack surface, remove blind
spots, and construct a baseline for effective risk management.
2. Predict
Tenable One helps security leaders to anticipate impacts of possible attacks thus prevent attacks by applying the industry's largest data set to understand relationships between assets, exposures, privileges and threats across an attack path.
3. Prioritize effect
Exploitable vulnerabilities, attack and breach pathways are the main sources of cyber attack. Tenable One removes these risks through improve risk prioritization that constantly identify these attack surfaces. Significantly, with Tenable One give more accurate and predictive remediation insights to eliminate risks with the minimal effort in preventing attacks.
4. Effectively Communicate Cyber Risk
Tenable One provides Security executives and business leaders with centralized and business-aligned view of cyber risk. With Tenable One:
You can view progress over time with benchmarking against external peers through clear KPIs.
You gain actionable insights into your overall cyber risk and deliver business-aligned risk assessments that allows you to enhance communication and collaboration among different constituencies.
5. Flexible Licensing
Tenable One lets you allocate licensing option according to your specific exposure requirements and change the allocation whenever needed.
Key Capabilities:
1. Global Exposure View
Tenable One's Exposure View offers focused security efforts through straight to the point and clear insight into the security exposure of your organisation through a unified global exposure score obtained from multiple types data sources.
With Tenable One, you are able to get answer for the following:
How secure are we?
Where do we stand in our preventative and mitigation efforts?
What is our performance over time?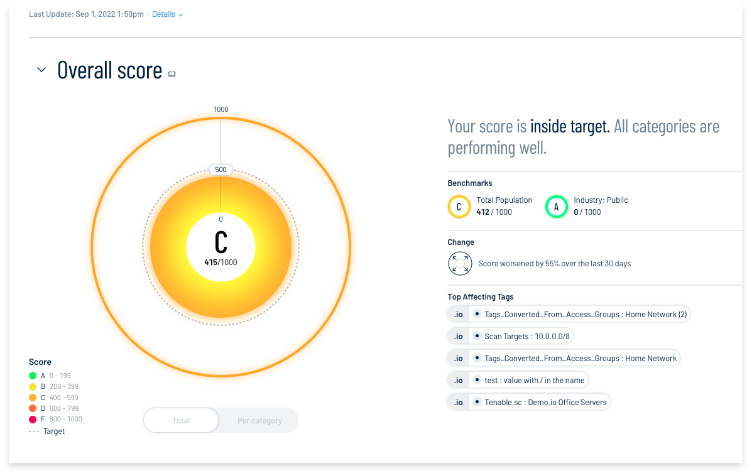 2. External Attack Surface Management
Tenable One provides insight into the external attack surface. This enables organisation to discover and reduce risks through the perspective of attackers.
3. Attack Path Assessment
Tenable One offers Attack path visualization and prioritization. This capabilities work by mapping critical risks to
the MITRE ATT&CK framework to anticipate all exploitable attack paths continuously (on premise & in the cloud)  give a pre-emptively focused response to disrupt possible attack path of an attacker.
4. Centralized Asset Inventory
Tenable One's comprehensive Asset Inventory offers complete visibility into all assets regardless of data source (AD, WAS, VM) thus eliminates blind spots. Subsequently, this centralized asset inventory gathered from multiple data sources.
5. Risk-based Vulnerability Management
Tenable One helps reduce vulnerabilities across the attack surface through remediation prioritisation. This is achieved by incorporating threat intelligence information (prioritizing risk remediation based on real-world risk and consequences). into measurements of an organization's exposure to risk.
6. Comprehensive Assessment
Tenable One's comprehensive assessment provides insight to cyber exposure varieties of every asset vulnerabilities which include vulnerabilities, misconfigurations and varieties of potential threats.
7. Secure Active Directory
Tenable One helps protect your Active Directory by disrupting attack path, give complete visibility, and address the risk.
8.  Secure Cloud Infrastructure
Tenable One gives full and continuous visibility and remediations of exposures across all cloud resources and assets.
9. Kubernetes & Container Security
Tenable One lets organisations to perform container images scanning securely without sending images
outside of a network.
10. Automated Web Application Scanning
Using Tenable One, organisations can conduct comprehensive and accurate vulnerability scanning with complete visibility of IT, cloud and web application vulnerabilities.
11. Peer Benchmarking
Tenable One helps your organisations makes better decision in key human and financial investments as it enables you to make comparison for cyber exposure between business units or locations internally, as well as against industry peers externally.
12. Program Effectiveness Metrics
Tenable One includes remediation maturity measurements. This capability provides context to risk
mitigation efforts that give answers on how effective an organisation in meeting their internal set SLAs.
E-SPIN offers products, solutions and services from a wide range of suppliers throughout the world. Over the years, E-SPIN has been actively promoting Tenable full range of products of vulnerability assessment and vulnerability management. Please Feel free to contact E-SPIN for your project requirement and inquiry.