E-SPIN pleased to supply Nessus Pro and Burp Suite Pro Reporter Pack, aka NamicSoft Scan Report Assistant. Exist for Windows only, license by computer. In general, it is a parser and reporting tool for Nessus, Nexpose, Burp, OpenVAS and NCATS.
NamicSoft provides an easy-to-use interface which assists you to quickly create reports in Microsoft Word (.docx). The builtin parser also supports exporting the result to an Excel spreadsheet (xlsx) and/or to a SQL database (sqlite). Other functions allow you to merge hosts, to edit host and vulnerability information as well as to filter results on parameters, such as port and severity.
By using the software our customers reduce the time needed to create a report while keeping a high consistency (no cut and paste needed).
For all the existing customer, just or new customer just let us know want to have reporter pack add on, we will make the hassle free supply to include it with this reporter pack.
Create a Word report from your Nessus scan using a NamicSoft template. You can either use one of NamicSofts built-in template, or you can customize your own. See template design for more information.
Merge results from your different vulnerability scans. You can merge on IP, hostname or by using your own custom mapping.
Manually edit your scan result to .e.g. change a or multiple vulnerabilities severities. There is also support for adding an audit trail to each vulnerability.
NamicSoft does have a powerful rewrite function which allow you to change the output from NamicSoft using your own translation database. Can e.g. be used to create reports in another languange or to change the output to align with your company's standards.
Compare results between scans. The difference between the scans is exported to Excel where you can see which vulnerabilities that are new.
Create reports from the command line and integrate NamicSoft in your scripts.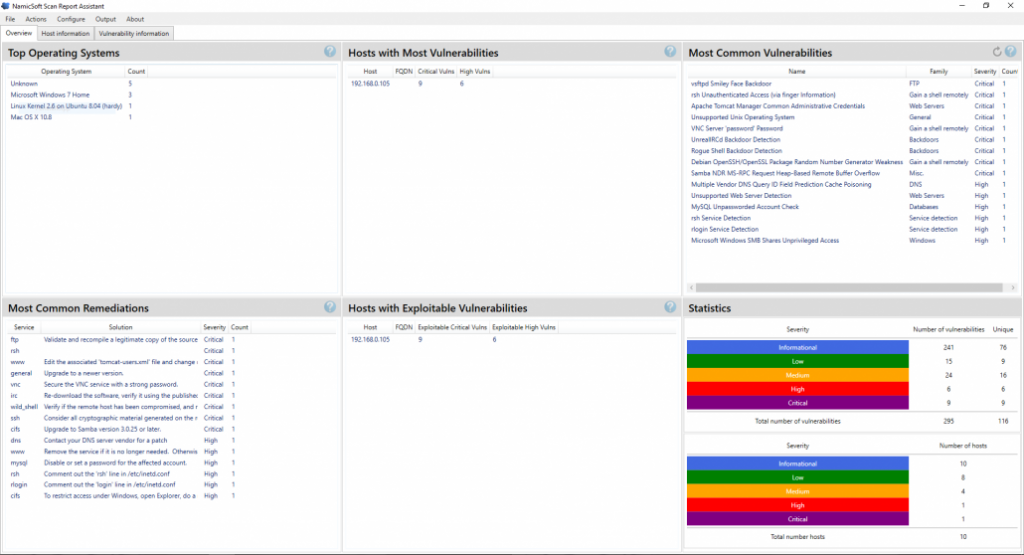 Dashboard with a overview of your results
Overview of your hosts and scan results
Detailed information about your vulnerability
Filter vulnerabilities
Edit vulnerabilities
Use the result in a Word report, Excel spreadsheet or SQLite database
Compare results from different Nessus scans. Output the difference into an Excel spreadsheet.
Merge hosts by IP, fqdn or by a custom mapping