SolarWinds Network Configuration Manager helps save time and improve network reliability by automating network configuration and change management to reduce configuration errors, recover quickly from downtime and improve security and compliance. Using NCM you can configure devices to policy, detect and prevent out-of-process changes, audit config compliance and re-mediate faults and compliance violations.
Use Cases
Network configurations backups – reduce downtime by capturing, storing, and comparing your network device configurations.
Network automation – run mass firmware upgrades safely, keeping your environment at peak performance.
Automate configuration changes – reduce network change management time and errors cause by manual and human process
Features Overview
Network automation to save time – Manage rapid change across complex and multi-vendor networks, reduce time needed to complete repetitive tasks, and maintain standards and service levels for uninterrupted IT.
Network compliance – simplify and improve network compliance. Simplify network compliance using NCM's automated network configuration tools to deploy standardized configs, detect out-of-process changes, audit configurations, and even correct violations.
Configuration backup – for fast disaster recovery. Rest easy knowing you can locate the most current configuration and quickly apply it to a replacement spare, or to roll back a blown configuration.
Vulnerability assessment – proactive scan, detect and to protect your network from malware. Take the hassle out of vulnerability scanning using NCM's integration with the National Vulnerability Database and access to the most current CVE's to identify vulnerabilities in your Cisco devices.
Network Insight™ for Cisco ASA – Automate firewall activities to improve operational efficiency. Discover security contexts, backup and restore config files; discover, visualize, and audit Access Control Lists (ACLs); and easily manage firmware upgrades for Cisco ASAs.
Network Insight for Cisco Nexus – Get deeper visibility into critical data center switches
Filter, search, and identify config changes for ACLs. View interface config snippets and get Virtual Device Context (VDC) support for parent/child detection.
Integration with Network Performance Monitor – See and fix problems faster.
NCM's network change management works even better when used with SolarWinds Network Performance Monitor to detect more faults, and to identify and correct configuration errors.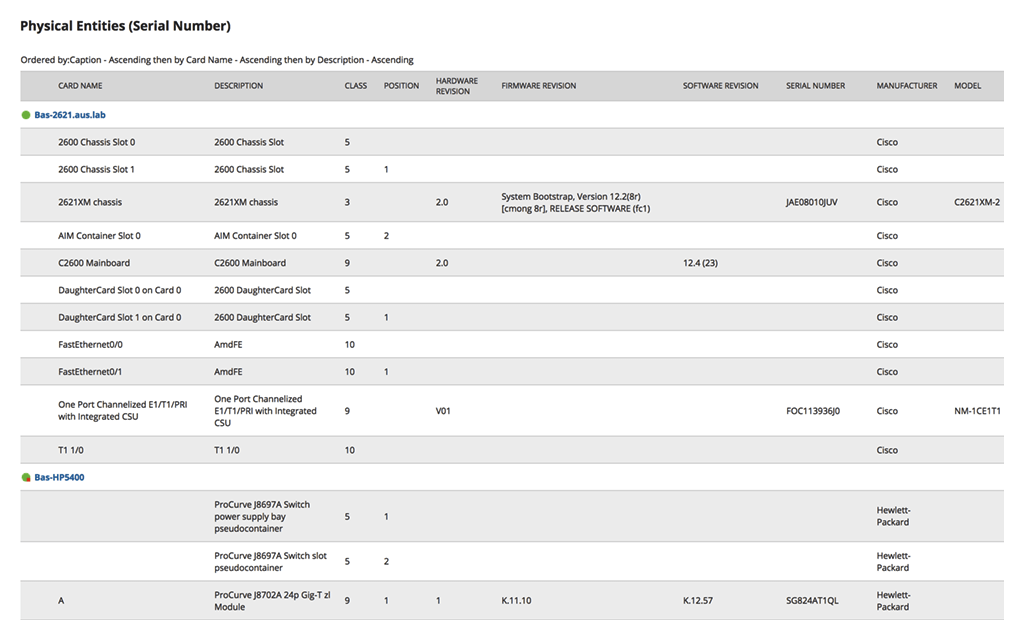 Device lifecycle management – Network discovery, inventory, and EOL reporting.
Always know what devices are connected to your network, their hardware and software configurations, and when they approach end-of-service and end-of-life.
Centralized delegated administration – Improve awareness and control.
Use NCM's integrated console to lock down devices from unauthorized access, delegate who can view device details and make configuration changes, and determine when network changes can occur.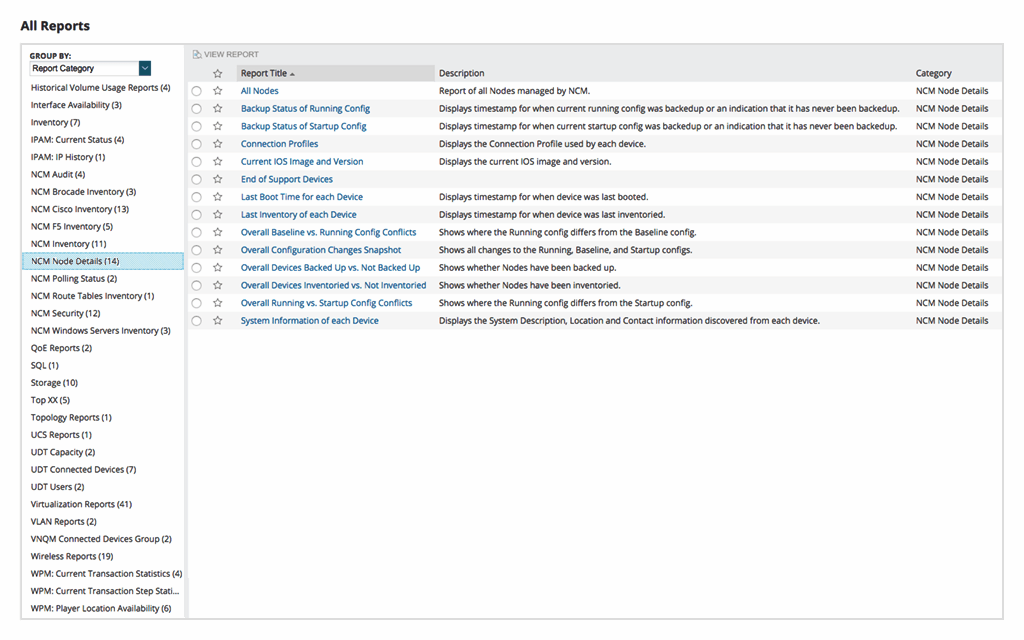 Reporting – Improve team communication and planning.
Use NCM's 53 included reports to keep stakeholders informed with the current state of your network inventory, configuration, changes, policy compliance, security, and planning requirements.
Optional High Availability – Help ensure 24/7 availability for your Orion servers and pollers across subnets with Orion Platform High Availability (HA).
Protect your monitoring environment against O/S crashes, application failures, network connectivity problems, and database availability issues with SolarWinds High Availability.
Enterprise Command Center (EOC) – Get a single consolidated command center of multiple SolarWinds servers with Enterprise Operations Console (EOC).
SolarWinds Enterprise Operations Console collects performance data from an installed base of multiple SolarWinds servers, and summarizes this data into a composite, centralized view.
Feel free to contact E-SPIN for your operation or project requirement, whether for point solution or end to end project.