PRTG Monitors Every Aspect Of Your IT Infrastructure
Monitor all systems, devices, traffic and applications of your IT infrastructure. Everything you need is contained in PRTG, no additional downloads are required.
| | |
| --- | --- |
| PRTG | Network Monitoring Software – Version 19.3.44.2059 (September 26th,2018) |
| Hosting | Download for Windows and hosted version available |
| Languages | English,German,Spanish,French,Portuguese,Dutch,Russian,Japanese and Simplified Chinese |
| Reporting | Historic data reports in PDF,HTML,CSV and XML format |
| Scripting | Powerful API for Python,EXE,DLL,PowerShell,Visual Basic, Batch Scripting |
PRTG Features To Help You Monitor Anything
PRTG comes with all the features you need, plus more your IT infrastructure won't want to live without.
FLEXIBLE ALERTING
PRTG comes with 10 built-in technologies such as email, push, play alarm audio files, or triggering HTTP requests. PRTG on-premises also supports SMS text messages and executing EXE files.
Our free push notifications help you stay up to date when using your mobile device(s).
Adapt the notification system to suit your needs and schedule alerts (such as 'no low priority alerts at night'), or avoid alarm floods by using dependencies and acknowledging. You could even use our PRTG API to write your own notifications.
MULTIPLE USER INTERFACES
Full featured web interface: based on AJAX with high security standards, highly performance thanks to Single Page Application (SPA) technology, and optimally adjusting to your systems by its responsive design
Enterprise Console: native Windows application for PRTG on-premises, especially for several PRTG installations
Apps for iOS and Android
All user interfaces allow SSL-secured local and remote access and can be used simultaneously.
CLUSTER FAILOVER SOLUTION
It is always better to be safe than sorry. PRTG Network Monitor allows failover tolerant monitoring. One single failover is included in every PRTG on-premises license!
Automatic failover handling: if the primary master of the cluster is not connected or is down, another node immediately takes over all its responsibilities, including the sending of notifications.
Take advantage of multiple points of presence monitoring: all nodes monitor all sensors all the time, so you can compare response times from different locations in the network (LAN/WAN/VPN).
The hosted version of PRTG also comes with high-availability monitoring. We take care of it for you so there is no cluster support in the cloud.
MAPS AND DASHBOARDS
Visualize your network using real time maps with live status information.
Create dashboards with the PRTG map designer and integrate all your network components with more than 300 different map objects – from device and status icons to traffic charts and top lists. Individualize your map using custom HTML.
Share your map providing its unique URL on a dashboard within your company LAN only, or even outside your company.
DISTRIBUTED MONITORING
Monitor several networks in different locations and separated networks within your company (for example, DMZ and LAN) with PRTG Remote Probes.
Use remote probes to monitor your LAN with the hosted version of PRTG.
Get the overview in one central PRTG core installation.
You can also use remote probes to distribute monitoring load.
Each PRTG license includes unlimited remote probes.
As MSP you can monitor your customer's networks and increase the quality of service.
IN-DEPTH REPORTING
Get the numbers, statistics, and graphs of your specific monitoring data or configuration.
Export your historic monitoring data as PDF, HTML, XML, or CSV files and further process your monitoring data.
Run reports on demand or schedule regular reports (daily, weekly, monthly).
PRTG Network Monitor
All-In-One Bandwidth Monitoring: Analyze your network bandwidth with PRTG
PRTG detects bandwidth overloads
PRTG Bandwidth Monitor supports SNMP, WMI, Packet Sniffing and NetFlow
PRTG Network Monitor helps you determine how much bandwidth your devices and applications are using. Depending on your network and hardware, you can use different protocols like SNMP, flow or packet sniffing.
What is bandwidth monitoring?
Bandwidth monitoring is a method for measuring the actual bandwidth available on a local system (LAN or WiFi).
Bandwidth monitoring tools display real-time data such as download and upload speeds and help prevent network strain.
Private individuals and professionals alike use bandwidth monitoring to check for available bandwidth.
How to check bandwidth usage?
Most bandwidth analysis solutions are only able to check internet traffic on a single device. For measuring all the traffic in your network, you need to monitor the data directly on your routers. Protocols like SNMP, NetFlow or WMI allow you to monitor bandwidth usage of your entire network. By using the Network Bandwidth Analyzer PRTG you get informed about all ingoing and outgoing traffic and see what application or what servers are using up the most bandwidth.
PRTG makes bandwidth monitoring easy
With PRTG Network Monitor, it is easy to track and check bandwidth usage in your network. The bandwidth tool reads the traffic data from your router and displays the results in three graphs. This way, you will quickly and easily be able to check bandwidth usage and the amount of data transferred.
Bandwidth monitoring for professionals and consumers alike
Bandwidth is measured as the amount of data that can be transferred from one point to another within a network in a specific amount of time. Typically, bandwidth is expressed as a bitrate and measured in bits per second (bps). It refers to the transmission capacity of a connection and is an important factor when determining the quality and speed of a network.
Private users: Many private users are interested in determining the amount of bandwidth they have at their disposal. Or more precisely: if the bandwidth guaranteed by their internet service provider is indeed the amount that is available. In this context, many consumers investigate speed tests, DSL bandwidth, or whether their cell phones or tablets are able to access the respective bandwidth.
In addition to PRTG, which of course can help in this area, you may opt for a simple cable speed test which can be found online on a variety of different sites and often times also measures the ping. Start using our bandwidth manager for your network.
Professional settings: In professional settings (businesses or large organizations), reduced bandwidth has significantly graver consequences. Disruptions lead to idleness on the part of employees and customers and a corresponding loss of sales. Administrators must promptly expose and eliminate bandwidth hogs.
In this instance, PRTG bandwidth monitoring tool will help you to monitor bandwidth, detect and measure heavy bandwidth overloads, quickly recognize potential disruptions – and get down to the root of the problem.
Measuring bandwidth: 3 situations where PRTG comes in handy

SLOW APPLICATIONS
Your co-workers complain that the programs used internally are too slow? Your customers are unhappy because your website constantly seems bogged down? Then the problem probably lies with your bandwidth.

2. MALFUNCTIONS WHEN BACKING UP
No IT can do without backups. In general, backups or database synchronizations require a great deal of bandwidth. Without the proper amount of bandwidth your network can be brought to its knees.

3. PROBLEMS WITH LARGE FILE TRANSFERS
Practically every company sends large files. These files consume a correspondingly high amount of bandwidth. But bottlenecks lurking in every network slow down transfers. With PRTG, you'll be able to promptly identify potential bandwidth overloads and quickly pinpoint the causes of crashes. One single network component overloading can swiftly result in a significant loss of bandwidth.
Obtain a comprehensive overview of your bandwidth usage
PRTG Network Monitor reads the complete traffic data from your router and provides detailed statistics about which services and programs use your bandwidth, and where potential bottlenecks could be.
PRTG displays your bandwidth usage in graphs and toplists and shows net bandwidth consumption based on various parameters such as port numbers, IP addresses, protocols, etc., using either Packet Sniffing or xFlow sensors (NetFlow, sFlow, jFlow, and IPFIX).
What is a sensor?
In PRTG, "Sensors" are the basic monitoring elements. One sensor usually monitors one measured value in your network, e.g. the traffic of a switch port, the CPU load of a server, the free space of a disk drive. On average you need about 5-10 sensors per device or one sensor per switch port. Custom alerts notify you about bandwidth shortages via SMS, email, or push notifications. This ensures you can react proactively to all bandwidth issues and troubleshoot problems before they become severe.
This is what bandwidth monitoring looks like in PRTG
The PRTG bandwidth monitoring tool simplifies your day!
Let PRTG test and measure your network bandwidth around the clock so you can concentrate on day-to-day tasks with total peace of mind.
1. PRTG SAVES TIME
With PRTG, you get one central monitoring tool for your bandwidth data, measuring bandwidth and testing your network. You'll enjoy a quick overview of your entire infrastructure via our dashboard and app.
2. PRTG SAVES WORRY
Installing PRTG is quick and easy. Getting started or switching from another network and bandwidth monitoring tool is straightforward thanks to the PRTG auto-discovery and pre-configured device templates.
3. PRTG SAVES MONEY
PRTG is worth it. 80% of our customers report substantial savings in the area of bandwidth management. And license costs pay for themselves in an average of only a few weeks.
Cloud Server Monitoring Software PRTG
PRTG offers a quick overview of all cloud services
Use PRTG as your cloud management tool
IAAS / SAAS / PAAS – management made for all cloud strategies
Your cloud status at a glance : PRTG can be started within minutes and it's compatible with many mobile devices.
1. PRTG SAVES YOU EFFORT
Manage all your cloud computing services comfortably, around the clock. The built-in alarm feature alerts you even before problems occur – to avoid downtimes and complaints. Enjoy the design of an intuitive web interface.
2. PRTG SAVES TIME
With PRTG, you get a professional, central monitoring tool for all of your cloud computing services. Thanks to our dashboard and app, you'll enjoy quick and comprehensive overviews any time.
3. PRTG SAVES MONEY
80% of our customers report substantial or even exceptional cost savings in the area of cloud management. The experience of our customers shows that the costs for licenses have paid for themselves in an average of a few weeks.
Professional Database Monitor PRTG
All-in-one database monitoring at a glance
Oracle SQL, Microsoft SQL, MySQL, PostgreSQL & more
Avoid downtimes, optimize performance
Database monitoring: 5 reasons for using PRTG
 1. A MORE CONCISE OVERVIEW
Database availability and database performance are vital elements to your business's operations. PRTG queries data from your database without lengthy query, connection, or return times. The execution time of the entire database request is displayed on your PRTG dashboard at all times.
 2. A DETAILED VIEW
Monitor specific datasets from your databases, like no other database monitoring tools do, with individually-configured PRTG sensors and SQL queries that you define yourself. These datasets may come from the ticket database or online shop (see examples). Such database monitoring will enable you to optimize your business procedures and provide employees with important information.
3. INDIVIDUAL REPORTS
Would you like to use PRTG to analyze and monitor specific datasets in your databases? Then combine your database monitor with customizable reports which you can have sent to your managers automatically. With PRTG, all reporting features are included!
4. A VARIETY OF MANUFACTURES
PRTG offers predefined sensors for every important database manufacturer. Among them: MySQL, Microsoft SQL v2, Oracle SQL v2, and PostgreSQL. If you use a database that is not listed here, you can often run our ADO SQL v2 Sensor. Not enough? Write your own custom sensor easily.
5. GLOBAL MONITORING
Thanks to the PRTG dashboard, you'll enjoy an overview of all your databases – and much more, if you so choose. With PRTG, you can monitor your entire network. This is smart, for if your databases are acting up, the problem may ultimately lie elsewhere.
Your Database Monitor PRTG at a glance
3 examples of database monitoring with PRTG
1. TICKET DATABASE
Many companies uses ticket databases for outstanding work orders. Paessler also uses a ticket database, e.g. for its customer support. If this database contains too many unprocessed tickets, PRTG will automatically sound the alarm. When the sensor switches to red, you'll know at once that additional staff is required.
2. ONLINE SHOP
With PRTG, you can track your stock. When your online shop is booming, your warehouse often takes a heavy hit. PRTG will promptly notify those in charge so they can deal with the situation quickly.
3. TURNOVER
How much does your company make per hour, per day, per week? Use PRTG to display these figures on a screen in the office where everyone can see them. Further stats, such as the number of visitors to your website, are also part of the overview.
Free Network Mapping Software PRTG
PRTG maps all devices and properties at a glance
PRTG creates interactive maps of your network
PRTG alerts you before problems occur
All-In-One Port Monitoring Software
PRTG monitors open and closed ports
PRTG monitors bandwidth
PRTG monitors traffic
PRTG monitors connections using UDP and TCP protocols
PRTG includes SNMP, NetFlow, and packet sniffing
Monitoring the ports in your network is always beneficial in terms of bandwidth usage and security. Since all data packets travelling through a network are sent and received via a port, port monitoring reveals the actual data traffic and bandwidth usage in your network. A suitable port monitoring tool offers bandwidth monitoring technologies like SNMP, Flows (NetFlow, IPFIX, sFlow, jFlow), Packet Sniffing, and/or WMI, and provides detailed statistics for bandwidth planning. Moreover, it helps you watch ports' states to identify potential security risks caused by (accidentally) open ports.
Port Protocols: Definition, Traffic, Security
DEFINITION
A port is a part of the network address and ensures the proper distribution of connections and data packets. Valid port numbers range from 0 to 65535. Many applications use typical or standardized ports ("well-known ports"), which are usually registered with the IANA. These include FTP (port 20), SMTP (port 25), and SNMP (port 161). These ports are used primarily by protocols such as the Transmission Control Protocol (TCP) and User Datagram Protocol (UDP).
TRAFFIC MONITORING
Many administrators search for port monitoring software to monitor the traffic that runs through their routers and switches, and the amount of bandwidth that is consumed. What they really need is network monitoring software. PRTG comes with a number of advantages: it is an all-in-one monitoring software and monitors the traffic on your devices with SNMP as a means of monitoring bandwidth, and it offers the technologies of flow protocols (including NetFlow, IPFIX, jFlow, and sFlow) and packet sniffing
SECURITY
Open ports put your network at risk. They are used, for example, to introduce Trojans. While it is true that many administrators are highly security-oriented, it takes a superhuman effort to constantly check which ports are open and which are closed. Often ports are opened temporarily for individual applications and then forgotten. In such cases, PRTG checks if TCP/IP ports are open or closed and keeps administrators up-to-date by way of a built-in, customizable alarm system.
A quick introduction to PRTG:Port monitor
Port Sensor
PRTG supports packet sniffing
Port Monitoring: 5 reasons why PRTG is the right tool for you
1. ALL IN ONE
Whether SNMP, packet sniffing, or NetFlow: All standard monitoring protocols are included. The notification system is also part of the overall package. Get started with a central monitoring tool that works on your entire network – and finally enjoy some peace of mind as you concentrate on your other tasks. Many administrators use PRTG because they wish to do away with their "hodgepodge" of monitoring tools.
NetFlow is a protocol for collecting, aggregating and recording traffic flow data in a network. NetFlow data provide a more granular view of how bandwidth and network traffic are being used than other monitoring solutions, such as SNMP. NetFlow was developed by Cisco and is embedded in Cisco's IOS software on the company's routers and switches and has been supported on almost all Cisco devices since the 11.1 train of Cisco IOS Software.
2. EXPERIENCE
For nearly 20 years, Paessler AG has been fully dedicated to the development of its PRTG monitoring software in order to offer the perfect network monitoring tool. Today, more than 200,000 administrators worldwide put their trust in our monitoring software for the monitoring of their networks and traffic.
3. SUPPORT
PRTG comes with extensive support. We aim to resolve every support inquiry within 24 hours (on business days). Our knowledge base contains a number of concrete application tips. You will find answers to many of your questions there. Our manual also contains instructions for every sensor.
4. REPORTS
PRTG lets you create your own customized reports. Thanks to these reports, you can study the evolution of bandwidth, system load, and many other parameters over the course of months or years. This will help you with the long-term planning of your network infrastructure. You can also detect load peaks and react to them quickly.
5. ALARM
PRTG comes with a built-in notification system. This alarm is entirely customizable. You will only receive a notification if an error occurs. At the same time, the alarm can be configured in such a way as to provide prompt alerts – before larger problems or system failures arise.
The right sensors for monitoring your ports and traffic
What is a sensor?
In PRTG, "Sensors" are the basic monitoring elements. One sensor usually monitors one measured value in your network, e.g. the traffic of a switch port, the CPU load of a server, the free space of a disk drive. On average you need about 5-10 sensors per device or one sensor per switch port.
Which ports does PRTG use?
PRTG needs certain ports to function properly. As an administrator, you will have to free up these ports. You will find an initial overview below.
Web server: The web server requires TCP ports 80 (HTTP) and 443 (HTTPS), and uses fallback ports 8443, 32000+ (HTTPS), and 8080 (HTTP).
Reports: Have reports sent as PDF files. For this, port 8085 is required.
Auto-Update and Activation: Port 443 is required for Auto-Update and Activation
Update Check und Download: Port 80 is required for Update Check and Download.
Active Directory Integration: Here, ports 389 (TCP and UDP) and TCP 636 (SSL-secured) are used.
Remote Probes: Port 23560 is required for the connection between remote probes and the core server.
Cluster: Communication amongst cluster nodes takes place via port 23570.
PRTG Cloud: TCP port 443 is used to access the PRTG Cloud (e.g. for push notifications and the Cloud Ping and Cloud HTTP sensors).
SNMP: For SNMP, UDP port 161 is used.
Professional All-In-One Server Monitoring Software
PRTG monitors your mail servers
PRTG monitors your web servers
PRTG monitors your database servers
PRTG monitors your virtual servers
PRTG monitors ALL your servers. 24/7. At a glance.
Why server monitoring is important
Servers are the backbone of your business. To minimize downtime and to ensure peak performance of your website and services, constant monitoring of your server infrastructure and your data center is vital.
By tracking the uptime, health, disk space and performance of your servers, you can prevent outages and identify bandwidth hogs. In addition, you are laying the foundation for delivering a great service to your customers, through a fast-loading and constantly available website.
3 good reasons for PRTG as your server monitoring software

A server is a computer or system that provides resources, data, services, or programs to other computers, known as clients, over a network. In theory, whenever computers share resources with client machines they are considered servers. There are many types of servers, including web servers, mail servers, and virtual servers.
1. AN INTEGRATED SOLUTION
Whether just a few servers or a large server farm: PRTG adapts dynamically to the size of your server landscape. And should you acquire more servers, all licenses are individually upgradeable. PRTG is an integrated solution: whether processors, memory, cooling fans, power supplies, or other components, our Server Monitoring Tool simultaneously monitors your servers as well as your entire infrastructure. PRTG immediately recognizes if a router or switch fails and causes a disruption in the server. Even virtual servers are recognized automatically and included in the monitoring.
2. PROMPT ALERTS
Servers are the main elements of every IT infrastructure. Without them, a company is more or less unable to function. PRTG ensures system failures are as short-lived as possible – or even prevented in advance! Thanks to the e-mail or SMS alert feature, you'll know straight away if complications arise. Locate errors directly: this will save you lots of time. You can even define the alert threshold values yourself. This means you'll be notified before a shortage leads to a crash.
3. CAPACITY PLANNING
PRTG helps out with your capacity planning. Our Server Monitoring Tool lets you to promptly recognize when in the medium to long-term it will be necessary to increase your capacities. Our dashboard presents compelling charts which are perfect for convincing your higher-ups with no technical know-how to expand your resources. The tool also features detailed reports providing a basis for scheduling and continual process optimization.
Professional Unified Server Monitoring Software
PRTG monitors all types of servers – even in distributed networks. Here are a few examples of the kinds of servers for which PRTG provides predefined sensors so you can get started with your server monitoring at once:
MAIL SERVER MONITORING
Mail servers, in particular, are sensitive issues for companies. When mail server glitches occur, employees are quick to complain, putting the support department under intense strain. With PRTG, you can monitor your mail servers permanently and be alerted in a timely fashion. IMAP, POP3, SMTP, and many more: we supply more than a dozen sensors for your mail server monitoring.
WEB SERVER MONITORING
Website performance is a deciding factor for many companies – all the more so when they offer products and services via their websites. Downtime is costly, right from the very first second. That's why PRTG also makes a whole range of sensors available for your web server monitoring(IIS, Apache, and more).
DATABASE SERVER MONITORING
Practically all company information is stored in databases. When it comes to databases, performance is also the basis for the effective functioning of each and every department. PRTG thus offers a variety of sensors which are available for immediate use. These include sensors for the monitoring of MySQL, Microsoft SQL, and Oracle SQL. You can selectively choose HTTP content or perform database queries.
FILE SERVER MONITORING
If firms can't access information, then nothing works. One of the tasks of administrators is therefore to ensure the file server runs smoothly, and as with other servers, avoid crashes. It's not uncommon for administrators to search, say, for a specific FTP server monitoring tool. But PRTG has you fully covered in this area as well. For you get around 20 sensors just for your file server monitoring. Monitoring of NAS devices and storage area networks (SAN) is also supported by PRTG.
MONITOR AS MANY SERVERS AS YOU LIKE
With PRTG, you get a number of other predefined sensors which provide an overview of your entire server landscape in no time at all. You can create your own sensors whenever you want, and use the API to adapt PRTG to absolutely any special situation.
SNMP Monitoring Software All-In-One For Professionals
Find out what applications and servers are using up your bandwidth
Avoid performance bottlenecks
Deliver better quality of service to your users by being proactive
Reduce costs by buying bandwidth and hardware according to actual load
SNMP stands for Simple Network Management Protocol and consists of three key components: managed devices, agents, and network-management systems (NMSs). The protocol is a set of standards for communication with devices in a TCP/IP network. SNMP monitoring is useful for anyone who is responsible for servers and network devices such as hosts, routers, hubs and switches. It lets you keep an eye on network and bandwidth usage, and track important issues such as uptime and traffic levels.
The advantages of SNMP Monitoring with PRTG

1. SNMP SENSORS
PRTG comes with several preconfigured SNMP sensors. Among these is a series of sensors developed especially for device manufacturers such as Cisco, HP, Dell, and Synology. The SNMP Custom Sensor also lets you monitor a number of other devices from a variety of different manufacturers via SNMP.
Below you will find a selection of our "best-of" sensors. Whether servers, routers, or switches: with PRTG, you get a professional SNMP network monitoring software and a comprehensive view of your network.
2. BUILT-IN ALARM FEATURES
Our SNMP server monitoring software is equipped with a built-in alarm feature. You're free to set the threshold values and alert method (email, SMS, or a free push notification to your smartphone) any way you please. PRTG includes a customizable notification system which you can define according to your own personal needs.
3. AUTO DISCOVERY
The PRTG Auto Discovery facilitates your search. With this feature, all of the available devices in your network which are switched on for SNMP monitoring are checked, and suitable sensors are created, automatically. Your initial monitoring will thus be set up in the blink of an eye! You can then get down to its fine-tuning.
4. REPORTS
Reports are also included in the free SNMP server monitoring software. Among other things, they feature clear and comprehensible charts. One of the times these reports can come in handy is when your hardware is under heavy strain and you need to convince your higher-ups to provide you with the funds for an upgrade.
This is what SNMP monitoring looks like in PRTG
Sensor SNMP Hardware Status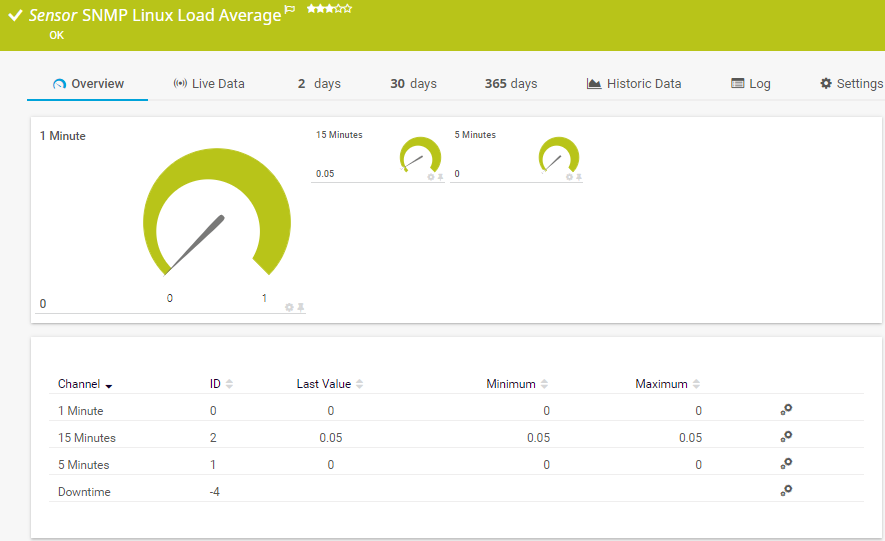 Sensor SNMP Linux Load Average
Overview SNMP Traffic Total
5 advantages of SNMP Monitoring
PRTG lets you monitor your network via SNMP. NetFlow and Packet Sniffing are used for the in-depth monitoring of data traffic, while SNMP provides for a comprehensive overview of the performance of your network. SNMP boasts the following five advantages:
1. SUPER RELIABILITY
In general, network monitoring with SNMP is extremely reliable. PRTG offers many sensors adapted to the various versions (SNMP V1, SNMP V2c, and SNMP V3) and different manufacturers.
2. MINIMAL BANDWIDTH USAGE
SNMP monitoring requires a minimum amount of bandwidth. As an administrator, you therefore get the overview you need and the control that goes with it, without putting too much strain on your network.
3. LOW CPU LOAD
Like the bandwidth, the processor is barely affected. The CPU load of SNMP V1 and V2c is nearly imperceptible, even with broader monitoring including several thousand sensors.

4. COMPATIBILITY
Almost all of the major device manufacturers (including Cisco, Dell, and HP) offer the Simple Network Management Protocol. For many devices, it is the only protocol used to read values.
5. PLATFORM-INDEPENDENCE
SNMP is a platform-independent standard. Activate the SNMP service in your Windows computer or configure the SNMP daemon in Linux. SNMP is also available for macOS. You can therefore incorporate all your computers into the holistic SNMP management software PRTG.
6. PRTG SAVES TIME
PRTG is an easy and intuitive SNMP server monitor. You get one central monitoring tool with which to monitor your network via SNMP and SNMP traps. The dashboard provides a quick overview at all times – whether on your desktop or as an app.
7. PRTG SAVES WORRY
Setting up PRTG is quick and easy. Dozens of SNMP sensors are available as well as user-defined sensors compatible with the various SNMP versions and adapted to specific manufacturers.
8. PRTG SAVES MONEY
80 % of our customers report substantial savings in the area of network management. And license costs pay for themselves in an average of only 3 1/2 months.