Avoid downtime with a network monitoring solution that covers you from the network edge to the cloud. See developing issues before users report them. Troubleshoot faster from and interactive topology map that shows connectivity and dependancies.
Up/Down Availability and Performance. At-a-Glance.
See what's up and what's down instantly whether in the cloud or on-premises. Get complete visibility to the status of network devices, systems and applications. Leverage topology-aware monitoring that understands network dependencies so you receive fewer, more intelligent alerts. Receive notifications through SMS, email, web or Slack so you know about developing issues before users report them.
---
What's New
Monitor More of What Matters
WhatsUp Gold 2018 has a whole host of user-driven improvements that let you proactively monitor more of what matters and give you instant visibility into the status of your network environment.
AWS & Azure Performance Monitoring
WhatsUp Gold automatically discovers, maps and monitors cloud environments including Amazon Web Services and Azure servers. You can monitor, report and alert on the status and performance of every metric your cloud service collects via its own native API. Not only does this allow you to track cloud resource usage, it also allows you to track cloud billing and show this report on a simple dashboard. Use WhatsUp Gold to track long-term trends – something impossible with the 60 or 90-day metrics most cloud providers support.
Visibility to Interface Utilization
A new overlay provides a visual representation or 'heat map' of the status of links between your devices. With one click you can see which interface links are fine (green), becoming congested (yellow) or approaching capacity (red).
Enhanced Wireless Monitoring
WhatsUp Gold 2018 lets you monitor your wireless network in more detail with new monitors like radio type for better diagnostics. It also supports Cisco Meraki cloud-based wireless management and updates the wireless overlay with a clearer display of active SSIDs for each AP.
More At-a-Glance Visibility
Display at-a-glance network status with a new, interactive Overview dashboard. Identify and categorize your device icons with a library of 200+ new designs that can be applied via device roles. See a passive monitor indicator on device icons in the map view. Extend storage monitoring capabilities to Dell Compellent and Synology NAS devices. Broadcast alerts to the entire IT team with new Slack integration. WhatsUp Gold 2018 makes it easier than ever to find and fix problems fast across your entire network environment.
WhatsUp Gold 2018 SP1
Our first Service Pack release for WhatsUp Gold 2018 contains enhanced map filtering, the ability to Post to IFTTT as an action, a new BGP Peer Status active monitor, map links to annotations, expiration dates and times for Maintenance mode, support for Synology NAS devices, the addition of QUIC to our list of protocols supported by Network Traffic Analysis and support for TLS 1.1 and 1.2 for SQL servers.
---
Features Overview
Application Performance Monitoring (APM)
Easily Monitor Business-Critical Applications
Application Performance Monitoring is available as an add-on to the Premium, MSP and Distributed editions and included in WhatsUp® Gold's Total Plus edition.
Application Monitoring
WhatsUp Gold provides you with an array of monitoring profiles for popular apps.  Leverage these out-of-the-box, best-practice profiles, customize them or create your own to get real-time monitoring for all your mission-critical applications.
Meaningful Alerts
You get fine control over which conditions generate alerts. You can set separate warning and down states, define critical and non-critical application components and even define component or application-level dependencies.
Reports & Dashboards
Get quick visibility to the health of all applications with the Current Status Dashboard. Analyze application performance problems over time or diagnose chronic problems with our Component Summary Dashboard.
---
Network Traffic Analysis (NTA)

Monitor Network Traffic and Bandwidth Usage
WhatsUp Gold makes it easy to get detailed visibility into your network traffic to see which users, applications, and protocols are consuming bandwidth. This insight allows you to setup bandwidth usage policies, maximize your return on ISP costs and ensure adequate bandwidth for critical business applications and services.
Network Traffic Visibility
Having insight to application bandwidth consumption allows you to better manage the performance of your overall infrastructure, applications and services. You can identify bottlenecks and plan effective workarounds or justify a needed bandwidth upgrade.
Bandwidth Capacity Planning
Being able to see historical bandwidth usage trends allows you to stay ahead of capacity planning. Having the visibility to which applications are driving consumption allows you to demonstrate effective bandwidth management and more easily justify upgrades.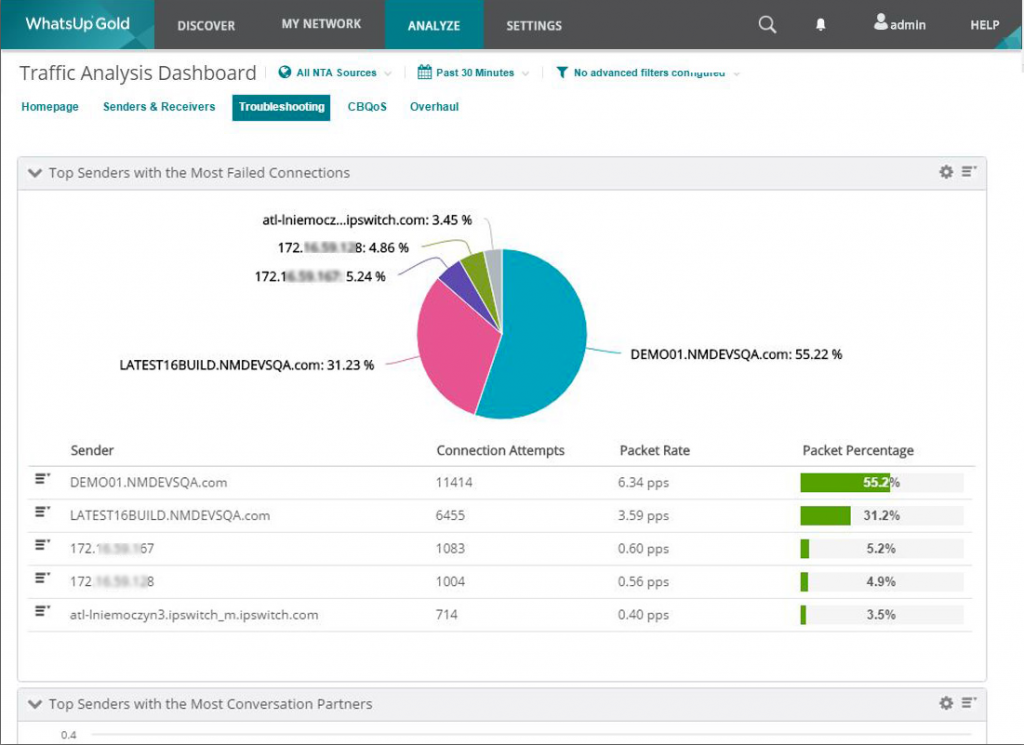 Faster Troubleshooting
Knowing what traffic was consuming bandwidth during a slow-down can really accelerate your troubleshooting. It helps you identify bottleneck issues like bandwidth hogs running where and when they shouldn't be. Finding these quickly can make you a network superhero.
---
Network Configuration Management
Automated Configuration and Change Management
Configuration Management is available as an add-on to the Premium, MSP and Distributed editions and included in WhatsUp® Gold's Total Plus edition.
Network Configuration Backup
Avoid the negative effects of accidental or malicious network device configuration changes. WhatsUp Gold lets you implement best practice controls by automating backups of both running and 'gold standard' network configurations.
Configuration Change Alerts
Setup network devices to send an SNMP trap to WhatsUp Gold and trigger a notification whenever a configuration changes. Set up an action policy in our alert center to automatically initiate a backup, add/remove users or update firmware.
Policy Compliance Audits
Audit device configurations against a set of predefined policies to assure compliance with requirements such as 'password encryption is enabled'. Compare before and after configuration changes and get a text-based comparison highlighting differences.
---
Virutalization Monitoring

Visibility Into VMware and Hyper-V Environments
Virtualization Monitoring is available as an add-on to the Premium, MSP and Distributed editions and included in WhatsUp® Gold's Total Plus edition.

Map Your Virtual Environment
Automatically generate dynamic maps of your Hyper-V and VMware infrastructure, displaying hosts and guests, host/guest relationships, clusters, and real-time status. With a single click, drill down to view performance data on any virtual resource on the map.
Monitor Virtual Performance
Monitor the performance and resource consumption of hosts and guests, including CPU, Memory, Disk and Interface Utilization and the availability and performance of servers and tracks live migrations. Keep an up-to-date list of all hosts and attributes.
Get Meaningful Proactive Alerts
Generate threshold-based alerts via Email, SMS, Slack or log files on CPU, memory, disk and interface utilization on virtual machines and events including virtual machine status, security related events and any alert generating an event log.
---
Cloud Monitoring

Overcome Cloud Visibility Gaps
Cloud Service Provider reports can't help you visualize your cloud-based resources in the context of your overall infastructure. That leaves monitoring visiblity gaps. WhatsUp Gold lets you monitor, alert and report on the status and performance of every metric available through the AWS or Azure APIs and integrate that data in your infrastructure map, alert center and dashboards. Cloud Monitoring is available in WhatsUp Gold's Premium and Total Plus editions.

Map Cloud-Based Resources
WhatsUp Gold can automatically discover your cloud-based resources and add them to the interactive map of your on-premises network. This gives you total end-to-end visibility of your entire networked infrastructure.
Extend Monitoring to the Cloud
Monitor any parameters that are accessible through the Amazon AWS or Microsoft Azure cloud APIs. See problems highlighted right on the map. With a single click, drill down to view availability and performance of any cloud-based resource.
Get Meaningful Proactive Alerts
Get proactive alerts for performance issues affecting key services. Generate threshold-based alert notifications via Email, SMS, Slack or log files on key performance and availability metrics. Set billing alerts so you aren't surprised by monthly bills.
---
Distributed Monitoring
Visibility to Remote Networks
The Distributed monitoring feature extends the capabilities of WhatsUp Gold to multiple remote networks, allowing a central installation and one or more remote installations. A single instance of WhatsUp Gold is determined to be either the central site or a remote site in a distributed environment based solely on the license used during installation. The central site installation coordinates data feeds from remote site installations and the network data collected from remote sites can be viewed in WhatsUp Gold reports on the central site. Together, the central and remote installations provide high visibility to multiple networks from one location.
Note that each central or remote server will require separate WhatsUp Gold license.
At installation, each server must be configured as either Central or Remote (although this can be changed any time) thus creating a distributed network. Note that while WhatsUp Gold provides a common platform for monitoring this distributed network, the Central and Remote servers need not be running the same edition.
---
Failover Manager
Reduce Network Monitoring Downtime
Automatically switch WhatsUp Gold from a primary installation to a standby system when the primary system is not functioning normally. The WhatsUp Gold Failover Manager reduces costly downtime by automatically taking action in the event of a primary system failure. This capability can also be initiated by a network administrator manually for planned outages/maintenance.
Note that both the primary and failover servers will require separate WhatsUp Gold licenses.
The Failover Manager utilizes user-configurable criteria to determine a failed state. You can choose to have the primary system go down if allservices are disabled, or if any specified service is disabled. For example, if you select all services, the services used by WhatsUp Gold must go down on the primary service for the secondary system to take over. If you select only the Polling Engine and Web Server, and both are disabled on the primary system for any reason, the secondary system takes over WhatsUp Gold network management duties until the primary system is restored.
---
Automated Discovery
Discover, Map and Monitor Your Network in Minutes
WhatsUp Gold features powerful Layer 2/3 discovery which can be initiated from an IP Range Scan or SNMP Smart Scan of a core router's Bridge Table and generates a detailed map of the core, Windows, wireless and virtual infrastructures and more.
The discovery process also generates a complete inventory of all networked devices including device type, vendor, serial number, firmware and hardware rev, and the modules installed on the devices. Customers often use this feature to fulfill inventory audits with automatically generated reports on the software installed on servers or network devices.
At the completion of the discovery process, WhatsUp Gold automatically assigns devices roles that specify what data to collect and remedial actions that are enabled. You can easily modify default device roles and sub-roles or create new ones with the Device Role Editor. The discovery process also identifies dependencies that are marked on the map as directional arrows. With a couple of mouse clicks, dependency data can be used to suppress unnecessary alerts saving valuable troubleshooting time by minimizing false alerts.
---
MSP Edition
Powerful, Cost-effective Monitoring for MSPs
WhatsUp Gold MSP Edition offers proactive network, system & application monitoring for hybrid on-premises and cloud environments through a single console with powerful dashboards and reporting in centralized, distributed & mixed client environments.
Proactively Monitor Entire Networked Infrastructures
WhatsUp Gold allows you to monitor any mix of networks, servers, storage devices, virtual machines, applications, traffic flows and configurations across Windows, LAMP and Java environments. Monitor both on-premises and cloud deployments from the same console. Track, alert on and report on cloud resource utilization and billing consumption rates.
Proactively monitor networks, traffic, physical servers, storage devices, virtual machines and applications with powerful and easy-to-use maps, dashboards and alerts. Our unique interactive map quickly shows your customer's end-to-end network, infrastructure and virtual health, providing the context of how everything is connected and dynamically responds to interactions to give you the fastest time-to-answers.
Troubleshoot Faster with Intuitive Maps, Workflows and Dashboards
WhatsUp Gold streamlines workflows by letting you initiate management tasks directly from the interactive map or workspace. Easily switch between physical, virtual, wireless and dependency views to accelerate root cause analysis. Workflows are optimized, intuitive and initiated from the network map or easily-customizable dashboards. The result is simpler, more intuitive troubleshooting that lets you find and fix problems faster than ever.
Feel free to contact E-SPIN for the end to end solution, integration and complementary solution for hassle free integrated system solution.